3 ways to repay student loans
Repaying federal student loans may never be stress-free, but you can choose from a number of repayment plans meant to suit different financial situations. Depending on the size of your loan, you could be expected to pay hundreds or even thousands each month. So before you pick a plan, tally your expenses and figure out how much money you'll be able to put toward repayment each month.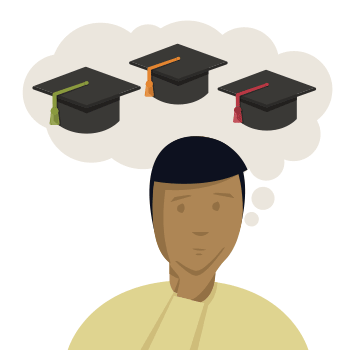 Plan Options
1Standard
The default option for federal student loans, this plan is designed so borrowers are debt-free in a decade or less.
2Income-driven
If you can't afford standard repayment, you may qualify for an income-driven repayment plan. Payment amounts are based on your income level and family size.
3Extended
This plan is designed for people with large loan balances; you must have at least $30,000 in outstanding federal student loan debt to use it.
Monthly Payments
Monthly Payments
1Standard
A fixed amount of $50 or more.
2Income-driven
10-20%ten to twenty percent of discretionary income.
3Extended
Either a fixed amount or graduated, where payments are lower at first and gradually increase.
Repayment Period
Repayment period
1Standard
Up to 0* years
*If you combine multiple loans, this can increase to 30 years.
Advantages
Advantages
1Standard
Paying off your loan in a shorter time frame generally means you'll pay less interest overall.
2Income-driven
Lower monthly payments let you use more of your income. You may qualify for loan forgiveness at the end of your term if you meet certain criteria.
3Extended
This plan helps people who may have a reasonable income but are struggling with high monthly payments due to a large balance.
Disadvantages
Disadvantages
1Standard
Monthly payments will generally be higher, leaving you with less money for current expenses and other financial goals.
2Income-driven
A longer term means you could end up paying more overall. If you end up meeting the criteria for loan forgiveness, you may have to pay income tax on the amount forgiven.
3Extended
As with the income driven plan, the extended time frame means you may pay more interest in the long term.
Remember
Even if you select, or are assigned, a certain plan at the start of your repayment, you can change it at any time by talking with your loan servicer. Just be sure to make any decision carefully, as these choices can have a big impact on your financial life.
Contact Us
866.736.2205

Mon-Fri 8 a.m. to midnight Eastern
Sat 8 a.m.-8 p.m. Eastern, Sun 9 a.m.-8 p.m. Eastern

866.736.2205

Mon-Fri 8 a.m. to midnight Eastern

Sat 8 a.m.-8 p.m. Eastern, Sun 9 a.m.-8 p.m. Eastern