Get ahead of the job market: 8 ideas to make your college tuition pay off
College is an investment—consider these tips to get hired after graduation and maximize your returns
The cost of attending college has risen substantially over the last two decades, averaging $36,000 a year per student, according to Educationdata.org. With about 34 percent of students borrowing money to pay for their education every year, it's natural to wonder if the price of college is worth it—meaning, will it lead to a good job after graduation?
To make sure your college tuition pays off, use these eight strategies to get the attention of employers.
You don't have to know exactly what you want to do for a living, but doing some research on the types of jobs you're interested in before you choose a college or major (or within your first few semesters) can pay off later. While there are many reasons to pursue a major with a lower return on investment, it's important to make any decision with a clear view of the long-term financial considerations, including how long it may take to pay off student loans within your desired field. Consider things like the amount of education, experience and skills required to break into a particular field, as well as job prospects and earnings potential for that career. Committing to a career path early on could also allow you to take advantage of school resources that can help you get ahead in the post-grad job market.
Highest starting salaries by college major
| | | |
| --- | --- | --- |
|   | Computer science | $72,173 |
|   | Engineering | $71,088 |
|   | Math and sciences | $63,316 |
|   | Social sciences | $59,919 |
|   | Humanities | $59,500 |
|   | Business | $58,869 |
|   | Communications | $58,174 |
Article continues below
Learn more
One of the best ways to get exposure to a career—and demonstrate to employers that you're a strong candidate—is to complete an internship. While most students generally complete an internship during their junior or senior year (hoping it will lead to a job offer), you can apply for them earlier, too. Many internships are paid, but if you decide to pursue an unpaid internship you may still be able to receive college credit. Keep in mind application deadlines (whether through your college or an employer directly) and the short- and long-term financial impact of taking a paid or unpaid internship. If the internships you're looking at are in a different location than your college or home, you'll want to factor the costs of living in that area into your decision.
If an internship isn't right for you, or if your internship is unpaid, consider whether you can take on a part-time job. Even if it isn't related to the field or industry you plan to pursue, a job can give you an opportunity to learn marketable skills that will be transferable to your chosen career. It also shows employers you have real experience, you're responsible and you understand what it's like to work with different people. And if you're an entrepreneur at heart, learning how to run a business now may help when the time comes to convert your hobby or side-hustle into a full-time job.
If you're unable to find job or internship opportunities in your chosen field, consider creating your own. This may look like starting a blog, podcast or social account on a topic related to your industry, or providing pro bono services to friends and family to build up your portfolio. Taking the initiative to build your own platform can be a great way to demonstrate interest while gaining valuable "real world" experience.
4
Build skills by getting involved
Another way to make yourself standout during your job search is to participate in extracurricular activities that can help you gain valuable hard skills (things like bookkeeping or inventory management) and soft skills (such as learning to collaborate or persuade others). Consider volunteering or joining student organizations, professional groups and campus clubs. By getting involved, you're meeting new people and demonstrating you can balance lots of responsibilities.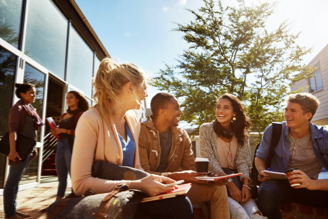 5
Gain leadership experience
Leadership is demonstrated in many ways—not all of them have to come with a title like class president. After you've become involved with a club or organization, consider taking on more responsibilities (or run for a leadership role) to gain time- and project-management experience, as well as develop stronger communication skills. Additionally, you could help organize a community service project or mentor new students.
Whether you're writing your first resume or updating an existing one for an internship or job opportunity, it's important to effectively communicate your skills, work experience and education. Even if you don't have "real" work experience yet, or if your past jobs aren't directly related to the position you want, try to highlight specific accomplishments that are transferable to the role—if you raised money for an organization or grew a club's membership, state how you exceeded the set goal. There are lots of places that can help you write a resume, such as your campus career center, a professional resume service, trusted career-focused websites or by speaking with a professional who has hired candidates.
7
Establish a professional presence online
Most college students already use social media for their personal lives. However, it's also important to have a digital presence that reflects your professional interests. Similar to your resume, consider creating a website or LinkedIn profile that reveals a little bit about you, highlights your experiences and contains a portfolio of work samples. It's also a good idea to check your privacy settings and carefully review photos and comments you've posted on social media—many employers will check out your profile.
It's natural to be nervous about networking. However, a large and diverse group of contacts can offer you practical advice, an introduction to others within your field of interest and give a strong reference when you need it. Once you've established your personal professional brand online, reach out to faculty, mentors and college alumni (or the alumni association). In addition, use well-known social media platforms to connect with young professionals already in your chosen industry.