How to get health insurance after the military
Your military health insurance generally ends the day you separate. Knowing what you're eligible for now, and how the costs and coverage vary, can help you make sure you and your family are protected.
If you want to keep your TRICARE
If you're retiring from the military, you will remain eligible for TRICARE. Otherwise, coverage ends when service ends. But there are a few options if you want to keep the plan. In general, these options are intended to be a bridge between TRICARE and your future coverage.
Continued Health Care Benefit Program (CHCBP)
This program provides the same TRICARE coverage you had on active duty, but you pay for it out of pocket. Premiums change every year. In 2022, for example, they were $551 a month for individuals and $1,360 a month for families. Most service members and their families are eligible for 18 months of coverage, though some may qualify for 36 months. After leaving the military, you have 60 days to enroll in CHCBP. Coverage applies retroactively to the day after your military benefits ended.
Source: Military.com, 2021
Transitional Assistance Management Program (TAMP)
This program provides up to 180 days of health care benefits to service members who were honorably but involuntarily separated from active duty under a few other scenarios. National Guard and Reserve members separating from a period of active duty that was more than 30 consecutive days in support of a specific mission or operation are also eligible. You do not have to pay any premiums for TAMP. To see if you qualify, visit the TRICARE website.
If you join the National Guard after you separate from active duty, you and your family may still be eligible for TRICARE. Coverage will depend on your service status.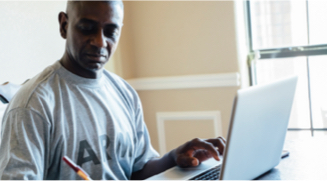 Top sources of health care coverage
TRICARE covers about 2.8 percent of the U.S. population. Most people get their insurance through one or a combination of the following:
Once you're no longer eligible for TRICARE extensions, the most common option is coverage through an employer. Companies with more than 50 employees must offer health insurance, and many smaller companies do, too. The employer pays a portion, and you generally pay a premium that's automatically deducted from your pre-tax paycheck. On average, employees paid about $100 a month for individual coverage and $500 a month for family coverage in 2021, according to the Kaiser Family Foundation. If your spouse or domestic partner has health insurance through work, you may be able to enroll in their plan too, depending on the employer's policy.
Health Insurance Marketplace
If employer-sponsored insurance isn't an option, check out HealthCare.gov. Also known as the marketplace or exchange, this is a service run by the federal government that helps people shop for and enroll in health insurance. Depending on your income, you may qualify for subsidies or tax credits to help with the cost. If you don't qualify, you could expect to pay several hundred dollars a month for individual coverage and more than $1,000 a month for family coverage. Some states run their own exchanges. If you live in one of those states, HealthCare.gov will route you to your state's exchange.
You can also buy insurance directly from an insurance or health care company. This option may give you access to a larger network of doctors, but you won't be eligible for any subsidies or tax credits.
When shopping for insurance, keep in mind that plans with the lowest premiums may not be the least expensive. You also need to consider what the plan requires you to pay for doctor visits, lab tests, prescriptions and other medical care. If you have a condition that requires ongoing medical care, you may be better off with a plan that has higher premiums and lower out-of-pocket costs.
Veterans Health Administration
While not technically insurance, care through the U.S. Department of Veterans Affairs may be an option. If you were in active duty military service and separated under any condition other than dishonorable, you may qualify for VA health care. More information on who qualifies can be found on the Veterans Affairs website. For the most part, family members of veterans do not qualify for health benefits, though there are some exceptions.
The VHA is the nation's largest integrated health care system. It serves 9 million veterans a year at 1,300 medical centers and outpatient sites across the country.
Source: Veterans Health Administration
Dental and vision coverage
If you're a military retiree, you and your family members can get dental and vision coverage through the Federal Employee Dental and Vision Insurance Program (FEDVIP). Enroll through the BENEFEDS website, which also includes a comparison of plans available in your area. Once you're enrolled, your coverage automatically continues each year, as long as you and your family members remain eligible for the program.