International student? 7 reasons why opening a U.S. checking account can help
If you're here to attend college, having a domestic bank account can make your financial life easier and safer. Here's why opening one could be right for you.
College students quickly learn the importance of keeping expenses from getting out of hand. The problem is even more urgent for international students. If you're like most, you've come to this country with only one bank account—in your home country—and you've quickly discovered how much international transaction and exchange rate fees can cost you.
One solution: open a checking account at a U.S. bank. A domestic account can help you avoid a number of fees as well as providing you with greater security and convenience. Here are seven benefits to having a U.S. checking account:
1
Having easy access to your money
With a U.S. checking account, your money is readily available for everyday purchases, bill payments, travel around the country or emergencies such as illness or injury. You can tap into your account by writing a check, using a debit card or transferring money online. And you'll be able to withdraw or deposit money at thousands of ATMs nationwide.
Checking accounts at most major U.S. banks also provide you with around-the-clock access to online banking as well as mobile banking apps and Digital Wallets, which allow you to make purchases with your smartphone at participating merchants, as well as getting money from cardless cash machines.
If you have an ATM card from a bank in your home country, a U.S. bank may not honor it. Even with a debit card from a U.S. bank, you will likely pay fees for cash withdrawals from an ATM if it's not in your bank's network. Banks may charge non-customers $1.50 to $3.50 per withdrawal, while non-bank ATM operators may charge up to $10 per transaction. Try to stay within your bank's network for withdrawals whenever possible.
2
Avoiding foreign transaction fees
If you're using your home country account while in the U.S., you're likely to get hit with charges such as international transaction and currency exchange fees—which can also apply to ATM transactions. By opening a U.S. account, you can save a significant amount of money.
And if you plan to travel and sightsee while you're in the United States, having a debit or credit card connected to a U.S. bank account will make paying for flights, hotels, rental cars and public transportation easier and cheaper. Even something as routine as buying gas can be difficult with a foreign card because many gas pumps require a five-digit U.S. zip code for verification.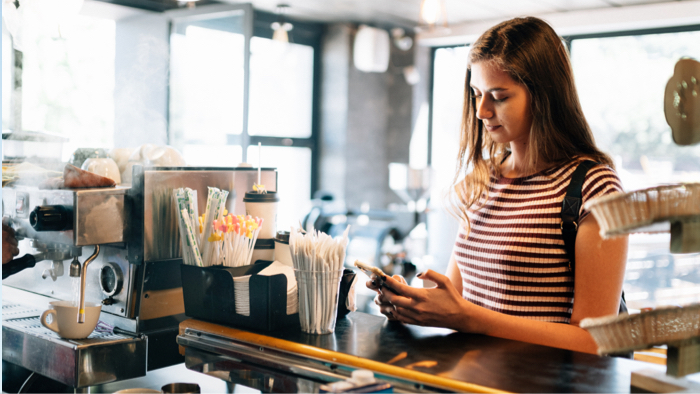 3
Paying bills automatically
Setting up payments for recurring bills—rent, utilities, streaming or phone services—is easier when you have a U.S. bank account. By taking advantage of automatic payments, your bills will always be paid on time, helping you avoid late fees and possible damage to your credit score. Just make sure there is enough money in your account to cover the payments.
Paying old-school style with paper checks? Some U.S. retail stores accept checks only if they come from an in-state bank. And if you're trying to cash an out-of-state check, you may have to pay a fee. Be prepared to show some form of photo ID, such as a driver's license, student I.D. or passport.
You can have paychecks, financial aid, scholarship money and other payments sent directly to your account. All you need to do is provide the payer with your bank's routing number and your account number, both of which can be found at the bottom of your paper check. This generally gives you access to the money sooner than if you deposit a paper check made out to you. And because the direct deposit transaction is done electronically, it is secure.
If you expect to receive a large amount of money you won't need right away, consider opening a savings account. You can earn interest on your funds and transfer money from savings to checking as needed.
5
Knowing your money is safe
A checking account at a reputable U.S. bank is generally a much safer option than carrying cash or stashing money in your dorm room. Most banks have security protocols and features to prevent identity theft and fraud and to protect your accounts. Additionally, accounts at U.S. banks are insured by the Federal Deposit Insurance Corporation, a U.S. government agency that covers as much as $250,000 in your accounts in the unlikely event of a bank failure.
6
Keeping your finances organized
The digital tools that many online banking and mobile banking apps offer can be a big help when it comes to budgeting, tracking your expenses, managing your spending and saving, and keeping your account secure. For example, you can set up alerts that notify you via email or text if your balance falls below a certain amount, a payment is due or there's unusual account activity. Additionally, you'll receive monthly bank statements either by mail or online.
7
Laying the groundwork for a U.S. credit card
Your credit history in your home country does not follow you to the United States. Developing a good relationship with a U.S. bank may help when you apply for a U.S. credit card. Used responsibly, a credit card can help you build a strong credit score. That, in turn, can help you with many different financial needs, like renting an apartment or qualifying for a low-interest loan. After you graduate and are seeking a job, prospective employers may want to review your credit report as part of their hiring process.
Expanding your academic and cultural horizons by studying in America can be the opportunity of a lifetime. Do what you can to make your time here stress-free. Opening a U.S.-based bank account can help you function more independently, make transactions easier and save you money.